The goal at SEW FUN STUDIOS is to celebrate sewing as a cool, relevant and creative activity for young people. We want children of all ages + ability levels to discover the joy of sewing as a lifelong skill and ongoing creative expression.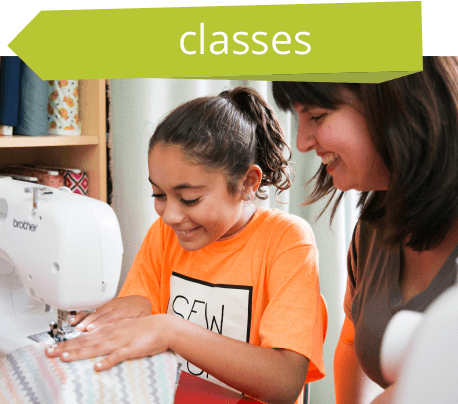 After School, Home School
Learn to sew + design a project from start to finish!
We currently offer a series of 1 hour classes for both home school + after school, lasting 3-10 weeks depending on school schedules.
In class each student will:
Choose from our specially curated selection of fabrics
Learn how to use a pattern
Learn to use a sewing machine
Make fun design choices along the way!

All materials are provided including our trained instructors + child-friendly sewing machines!
---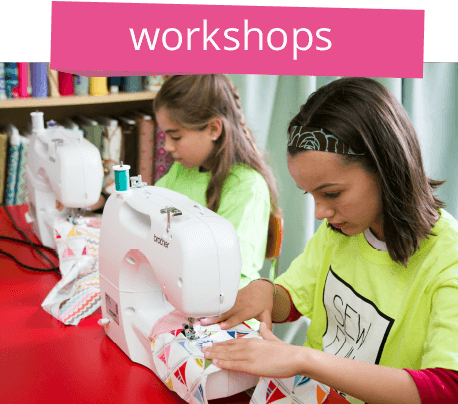 In-School, Scouts, Holiday
Develop sewing techniques in our single session workshops!
3 types of workshops are currently offered, length of session varies:
In-school
1-3 hrs – customizable
Structured as an in-school "field trip", Sew Fun Studios workshops are tailored to meet the needs of your classroom, curriculum and time frame.
Scouts
1.5 hrs – customizable
Holiday
3 hrs
Single session sewing workshops are offered during most school holidays.
Each workshop participant will use our child-friendly sewing machines to complete an entire project they can take home. We provide all of the necessary materials including our curated selection of designer fabrics!
---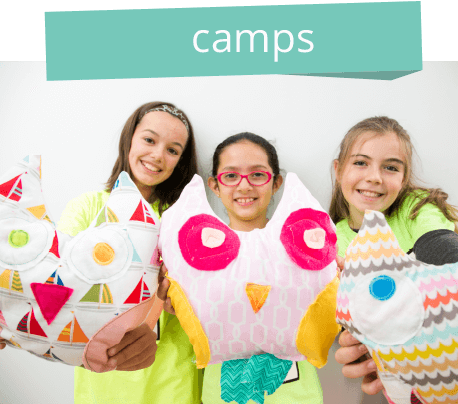 Week Long, Creative Themes
Make new friends and make cool things during a full week of creative sewing!
Camps are offered in week long sessions lasting 3 hours per day during summer, winter, + spring breaks
---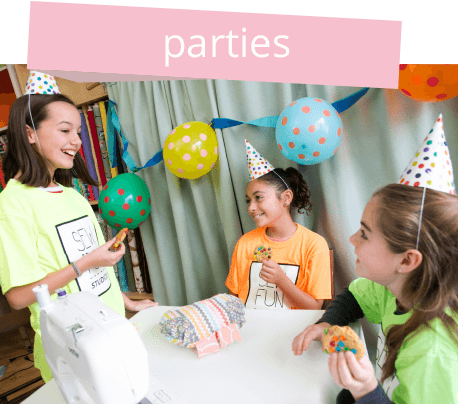 Birthdays, Special Events
Book a party at a location of your choice + invite your friends!
Parties are 2 hours of fun-packed sewing projects for you + your friends
Before the party…
Pre-select the party project from our awesome project collection!
During the party…
Choose from pre-cut designer fabrics
Learn + practice sewing machine skills
Construct your project
Have the best time ever!
After the party…
Each guest leaves with a handmade project that shows off their new skills + personal style
Sewing parties are great for all age groups and ability levels. We provide the machines, instructors + materials
---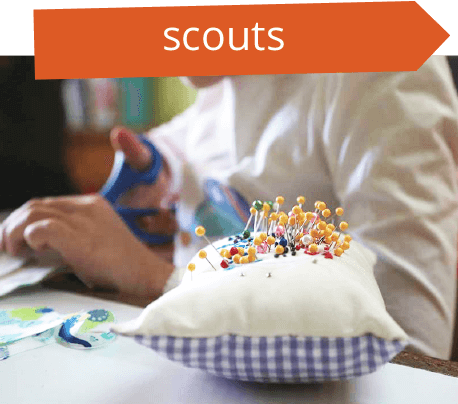 Girl/Boy Scouts, Y Guides
Learn an important life skill while learning a FUN badge!
Scout workshops are offered in single sessions that typically run the length of 1 troop meeting
Here's what we'll cover:
Basic sewing skills
Machine sewing
Sewing safety
Here's what you'll get:
A really cool project to take home
(scout leader's choice)
A FUN badge
A great time!
We provide everything (instructors, equipment and materials)